An Interview with Environment Artist Leonardo Iezzi
Leonardo Iezzi is an Environment Artist at Reflections a Ubisoft Studio from Newcastele Upon Tyne, United Kingdom. Recently we got a chance to took an interview with Leonardo. We are publishing it today so that it can be inspiring for our readers and hopefully you gotta learn a lot from this sharing. Watch below the whole interview.
Q 1: Hello Could you tell us a bit about yourself and your current job?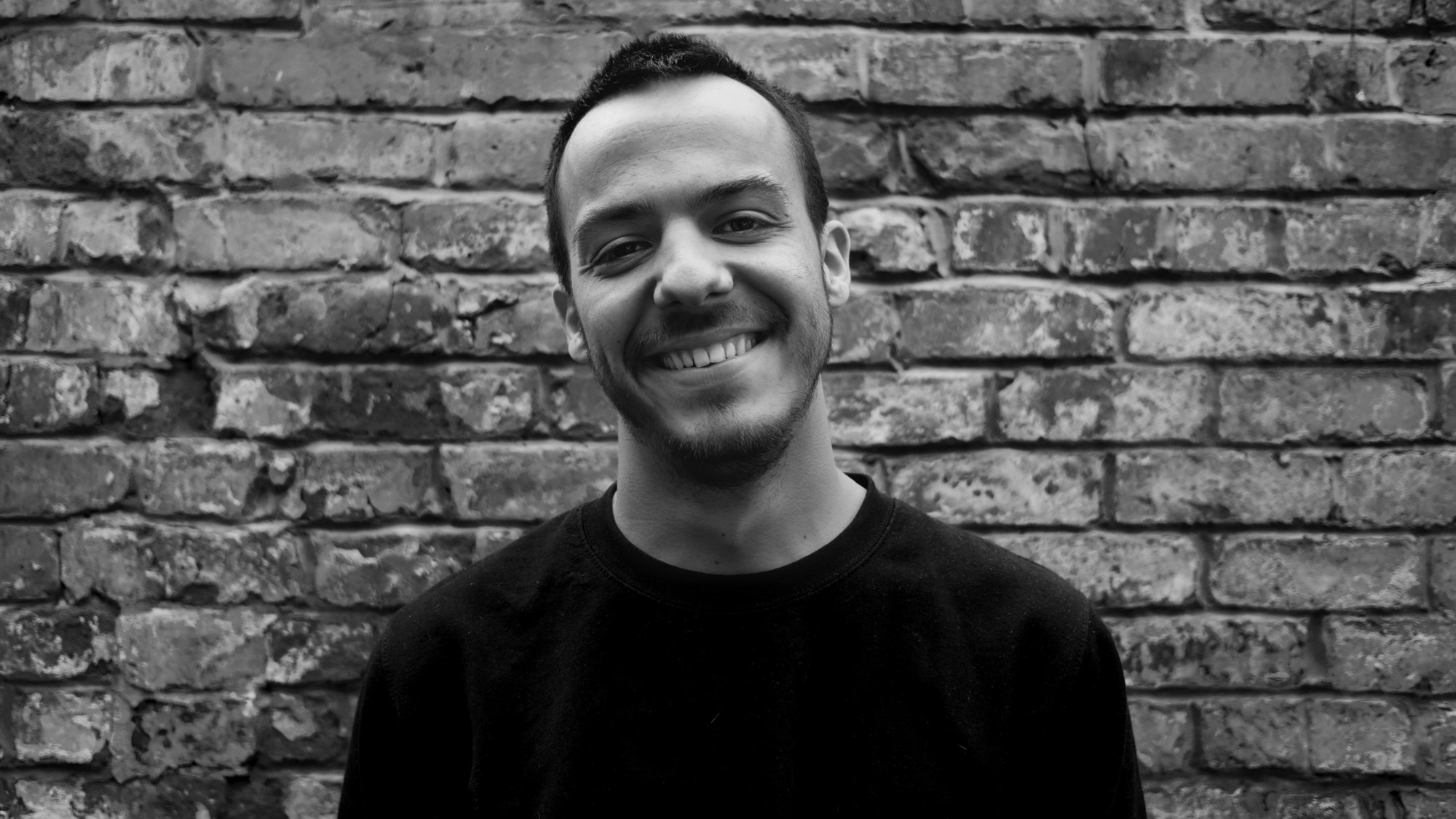 I'm Leo I'm living in Newcastle upon Tyne Uk, but I'm originally from Italy from a small town close to Venice. I'm 24 years old, and I'm currently working at Ubisoft Reflections as an Environment Artist
It's always hard to write about yourself. So I am going to talk about what I like about being an Environment Artist, I hope this will give you an idea of me and my personality.
For me, the environment artist role is one of the best roles in the video game production. It's like a hybrid discipline that sees art and technical combined not to mention that it requires a substantial flexibility and an extensive knowledge of many methods, process, best practices, as well as a good artistic eye.
From my point of view, a 3d environment is great when it can tell a story, when it can spontaneously lead the player through spaces and when it makes the player comfortable in playing it.
That's what I have in mind when I am building one, and thanks to ingredients such as shapes, colours, composition, lighting, dressing, playability and much more, you can achieve a perfect receipt. Moreover, we all know that Italians are excellent at cooking and receipts hahaha btw #StopPiazzaWithPineapple hahaha
Q 2: How has your career formed itself so far?
My career in the graphic worlds started straight away after high school where I was involved in some Graphic projects such as magazines, flyers, poster, etc. until I decided to try something new. That's when I decided to spend my next six months in a 3d Training center called Bigrock. There I got a good base of the animation/film pipeline but it wasn't enough for me, so with few others colleagues, we decided to move toward the game industry. To do that we started working on some mobile games to learn about the game pipeline and techniques. After almost two years spent in mobile games, courses, etc., I start working for Lka.it in Florence where I was working on "The Town of light".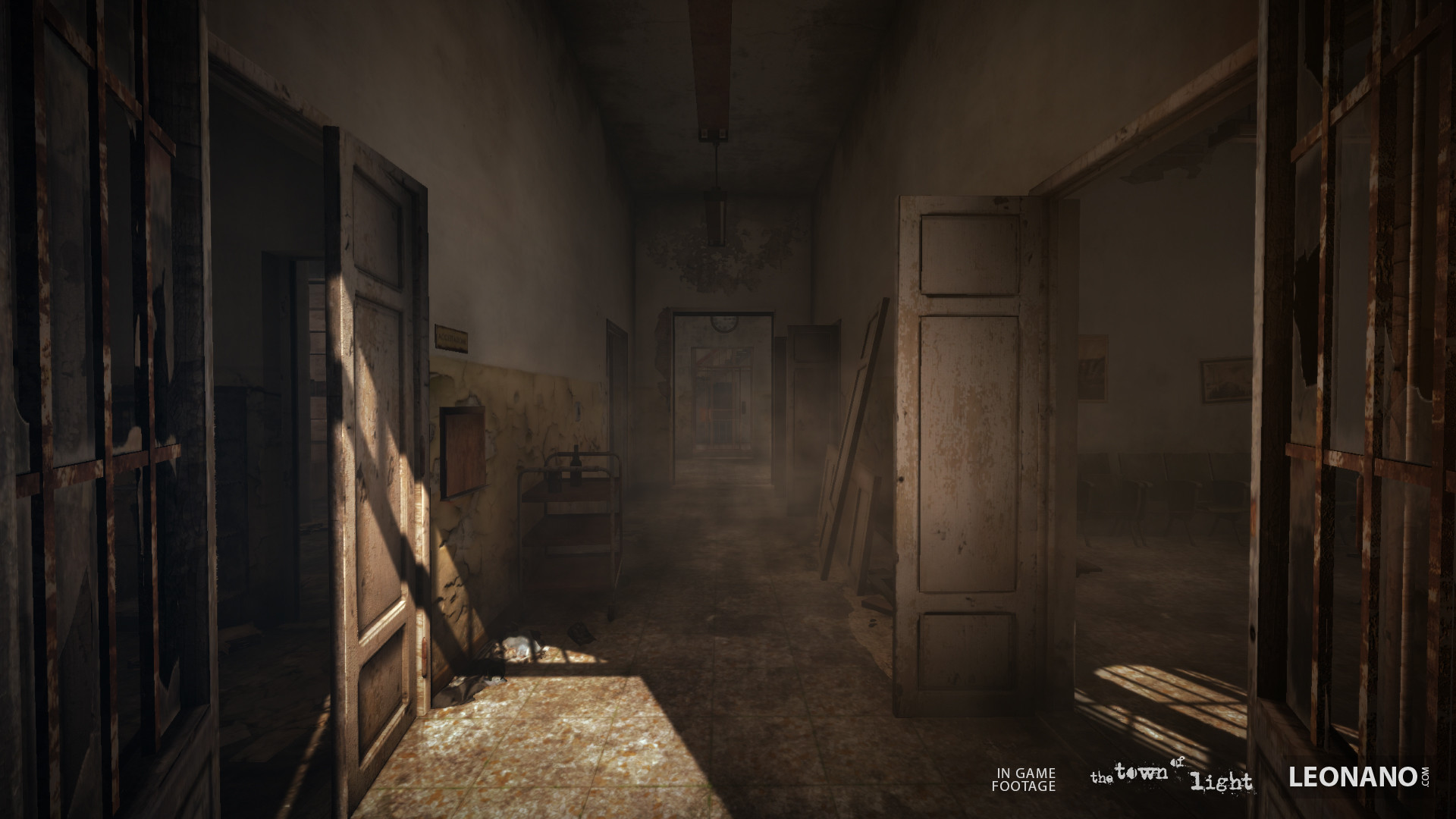 Lka is an indie team so as you might know, Indie team usually don't have a big budget so they can't afford to have a person doing one job, That's why, along with other talented artists, I was working as Environment, Texture and Props artist. In addition to those disciplines, I was also responsible for all the rigs of the game. After a year and something at Lka. I flew to London to start working at Sony London Studio where I had the pleasure to work on one of the first VR titles for playstationVR: VR worlds.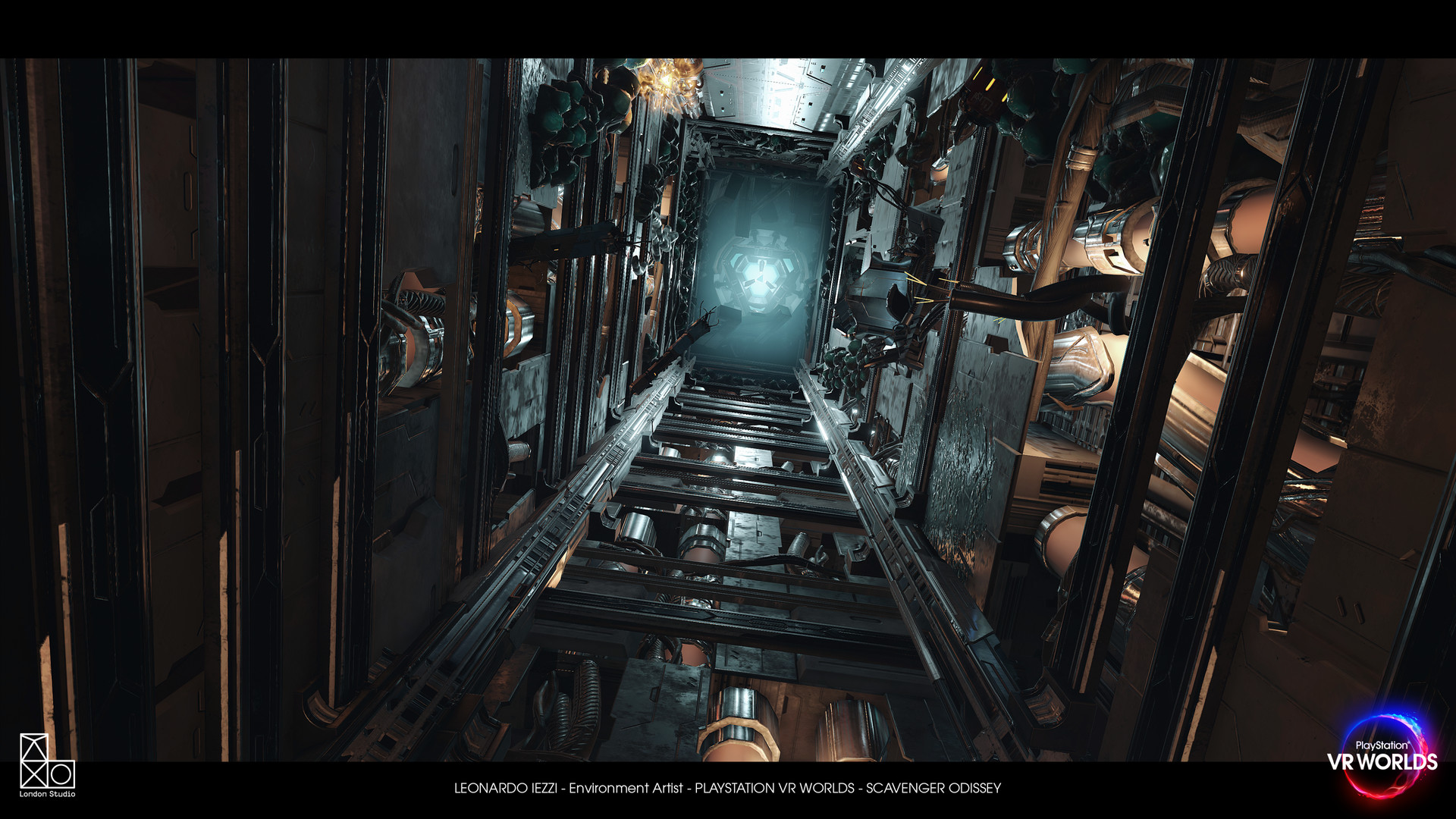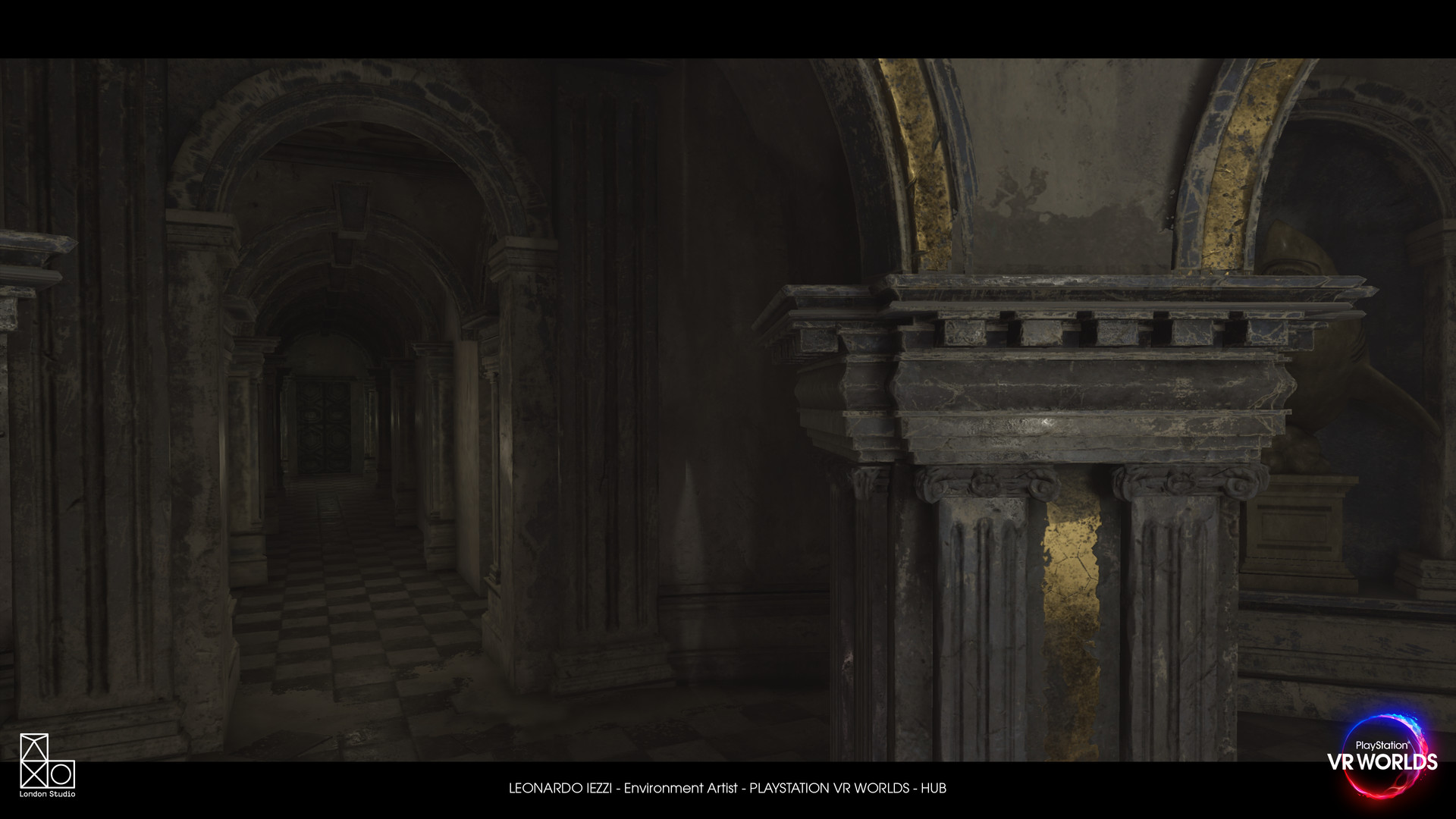 But most important I got to know a lot of fantastic people. When my contract ended, I moved to Ubisoft Reflections where I'm currently working on.
In addition to pretty much all these jobs. I've always been working as a freelance on many others projects: game related, Vr, Motion Graphic and graphic design.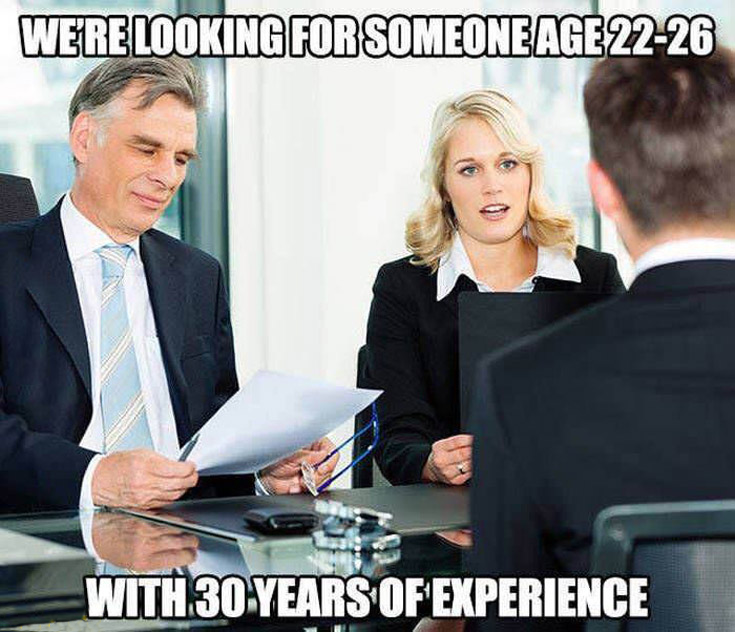 I made a little representation of my career timeline so that you can easily see my growth over the years till now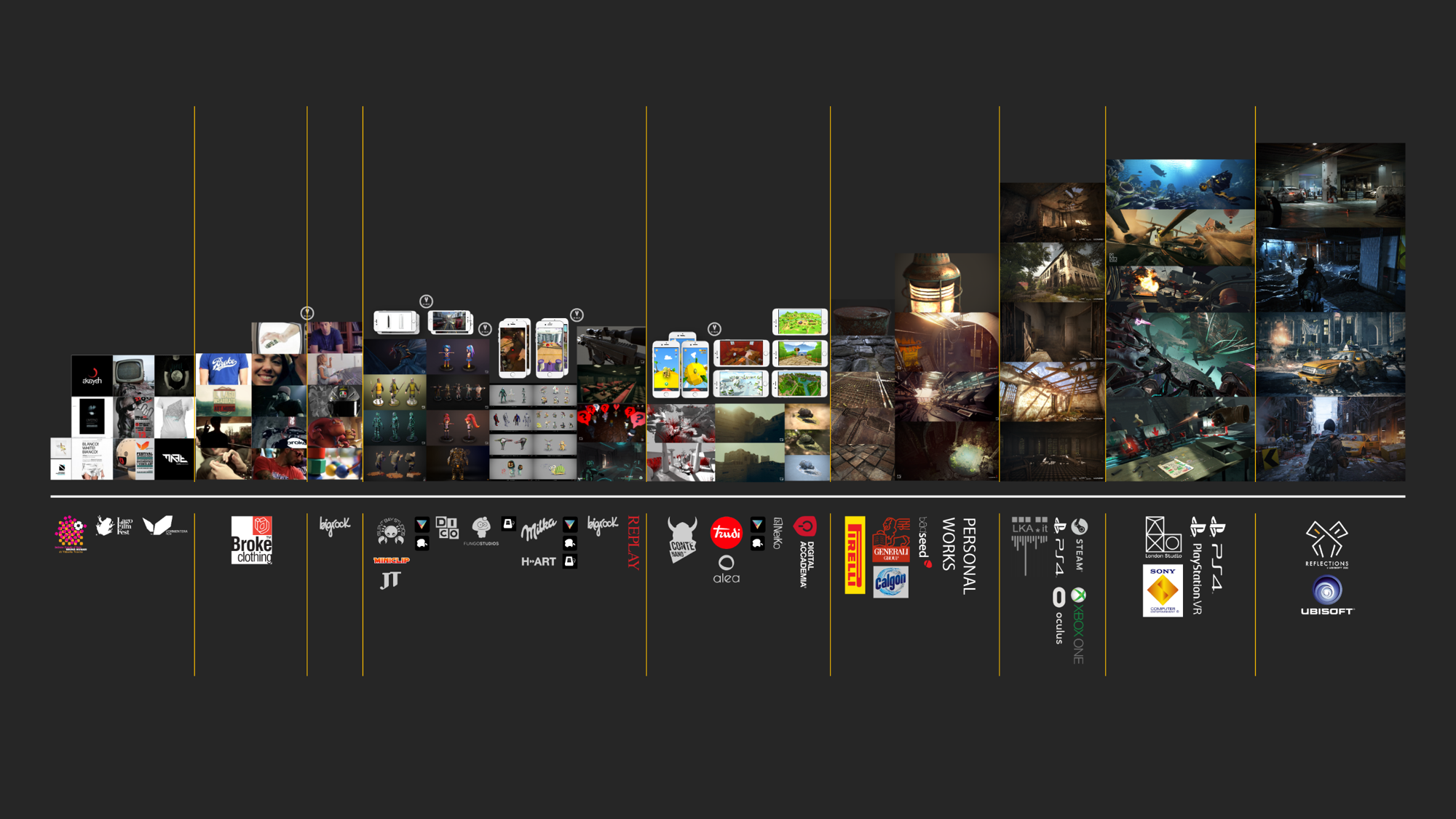 Q 3: What is the first project that you did?
One of my first project? It was kind of strange because when I started to earn enough money so that I could live with this job, I didn't start only with one, but there were many mobile games. One of them was a game with puppets involved; it was about 4/5 years ago. Wow so much time ago, but so much fun as well…
However, I consider "The town of light" the first project that I worked on in the triple-A industry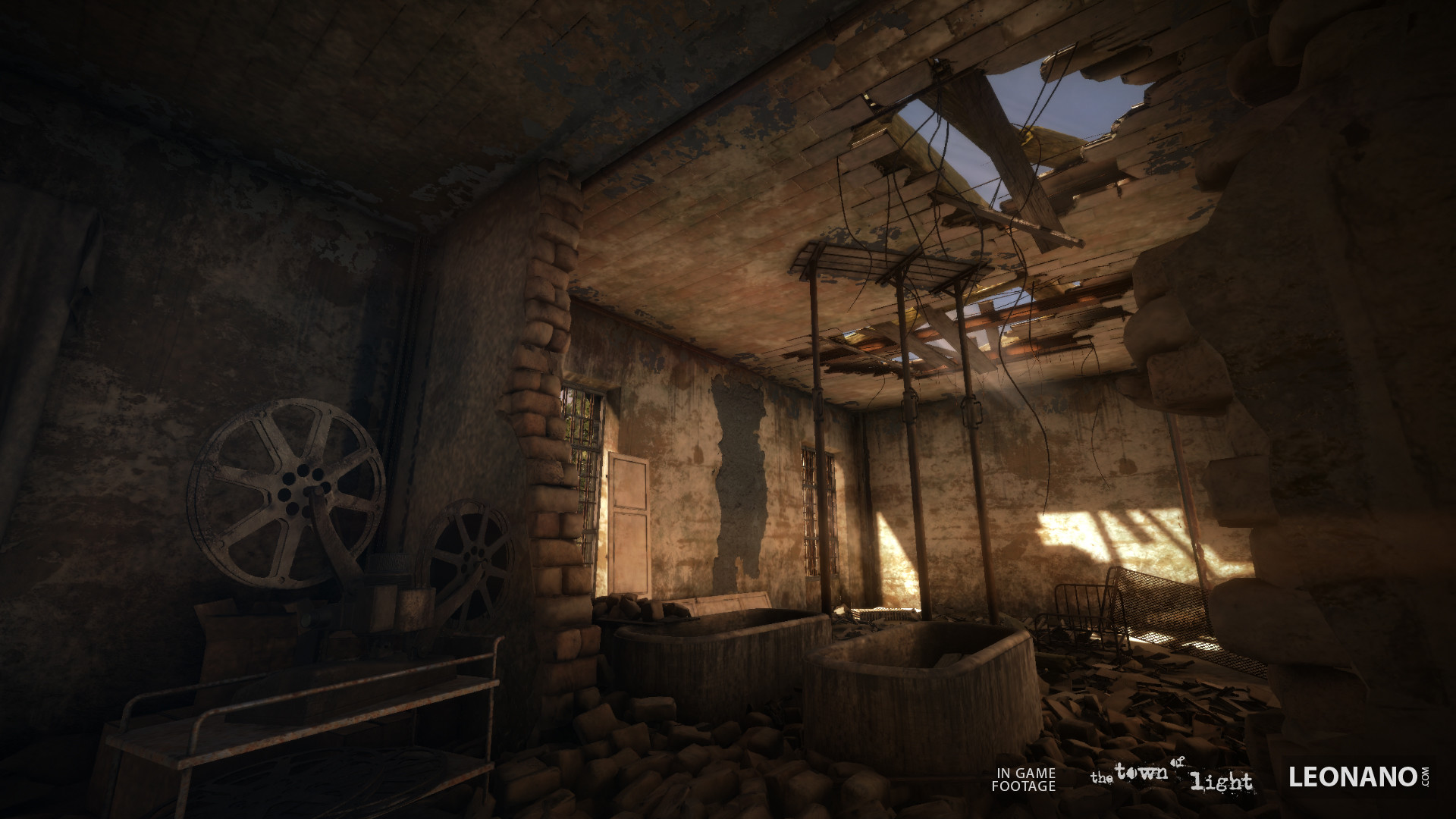 Q 4: Which one is your most favorite 3D Art that you did till now?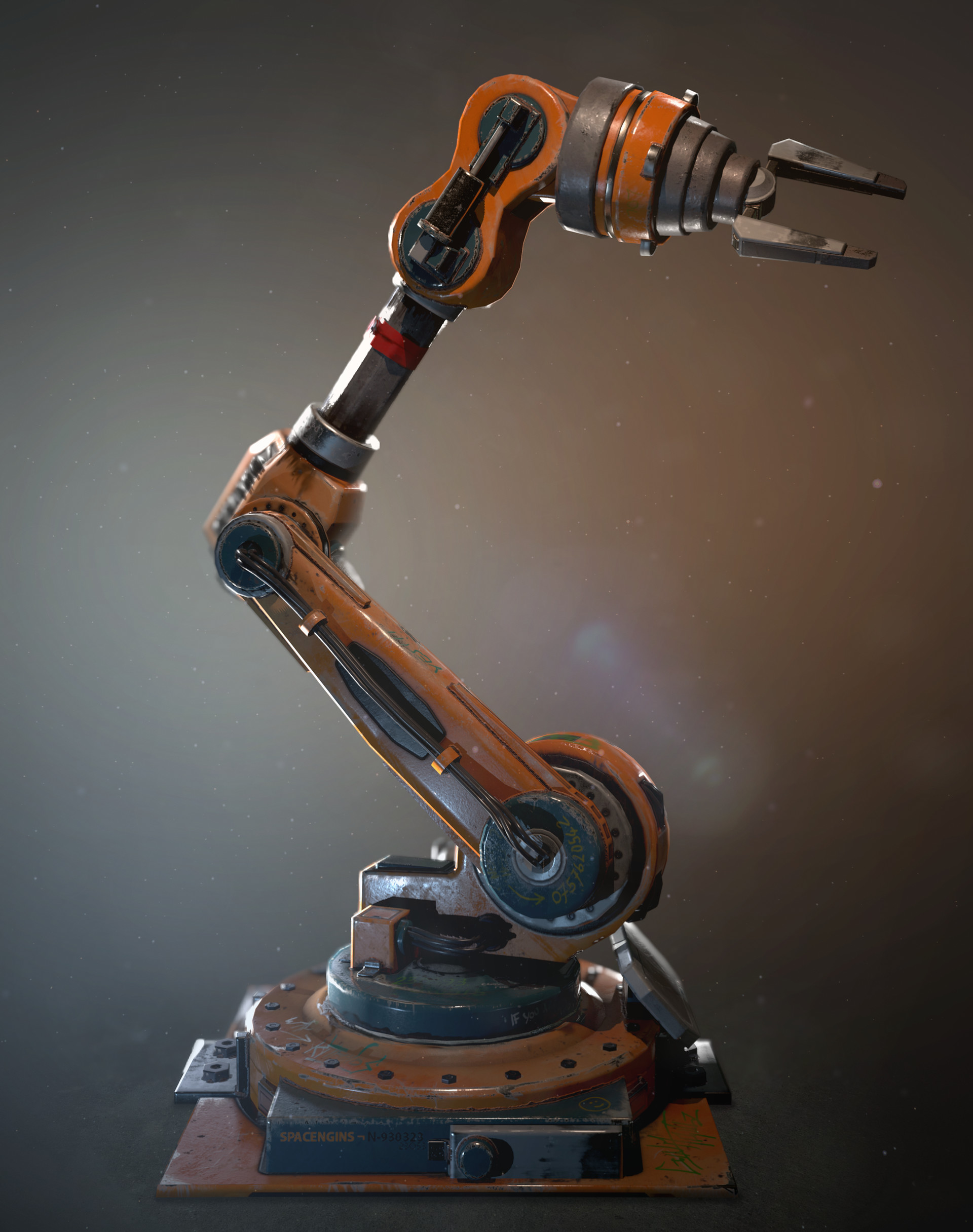 I think my favorite one is one of the latest. So I would say Robot arm that it was also featured on 3d Artist issue 104 with a simple tutorial.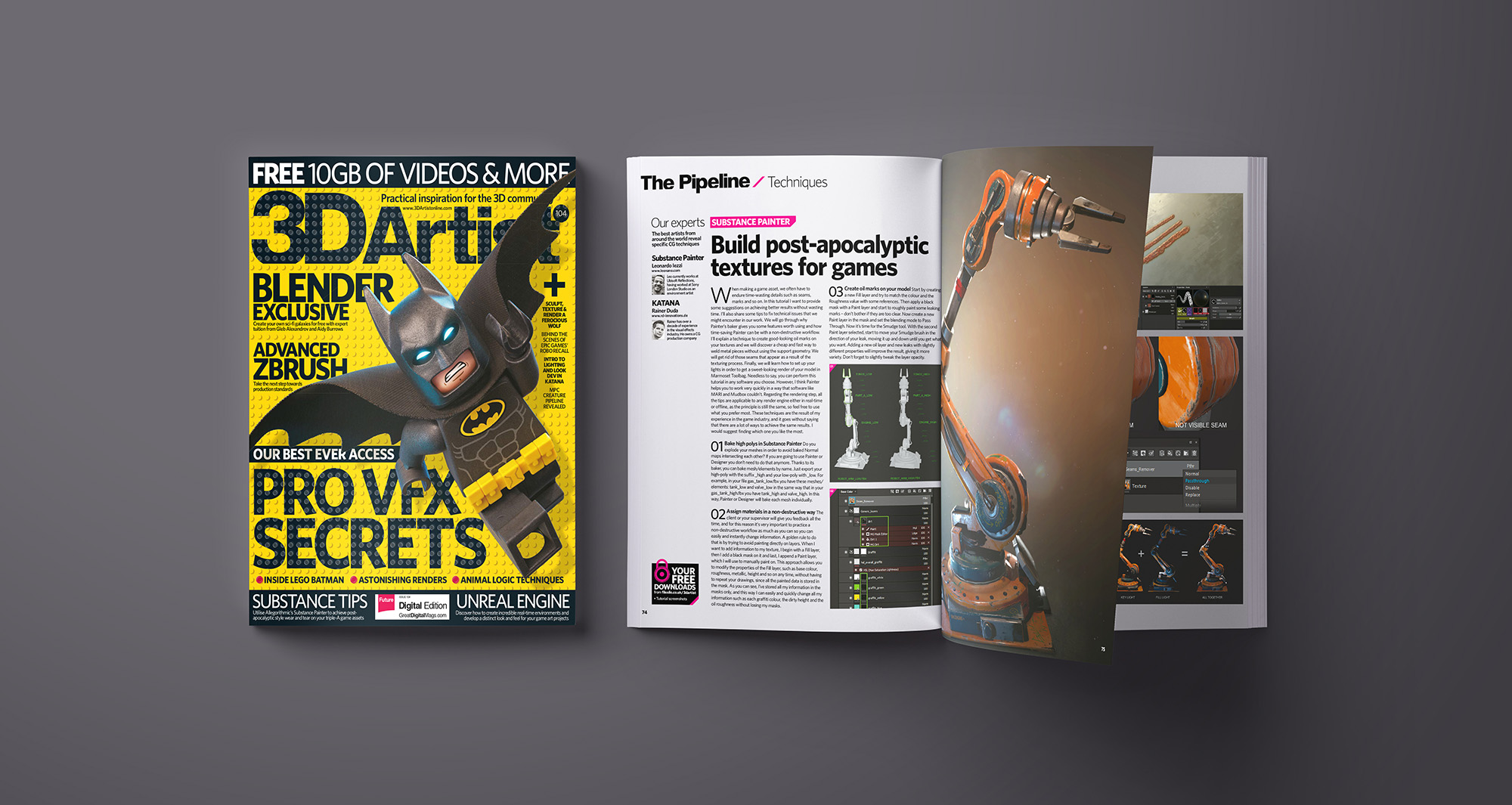 More shots here: https://www.artstation.com/artwork/wqnVL I think I like this one because it's full of little story and details.
Q 5: According to you what's the standard process for you when you come to do a 3D concept?
That's a big question 🙂 and I wish I could put some images, but I don't have anything ready at the moment. Maybe I will make a tutorial in the future about that 🙂 anyway.
1- The first thing I do when I'm starting doing something in 3d it's making sure that I understood what I'm about to do or recreate. So as you can imagine, research, well… a lot of research: blueprint, references, maps, etc. This stage usually is very underestimated, but I do believe that it's the key to succeeding and for not running out of time in the next passes, by the way, It's much easier and quicker create something that you know about it, don't you think?
2- So when I have everything I need to start. I usually start blocking out general shapes and volumes. This phase is crucial because it helps me to make sure that I'm translating correctly from 2d to 3d especially if I have a 2d concept as a primary reference. Another benefit for the blockout (or white box, grey box, etc.) is that I can give the block out to the level designers and lighter and they can start doing their job.
3- Next step is when I start to add some details to the blockout as well as some material. And if in the previous stage I had only a few big meshes. In this step, I start to replace each piece with single mesh.
4- At this point, you should be able to define a to-do list for assets, props, tileable textures, etc. and you have all the file already in place.
5- Next step is when I make the assets. And since everything it's already in place I just need to re-export the newest models and textures to see them updated directly in the game engine.
6- Then I wrap up everything with some extra polishing, adding some minor details, adjusting colour corrections, etc.
That's pretty much what I plan when I want to do something. Needless to say, that this process varies based on what you / I have to do.
Q 6: How about a Career scope as a 3D Artist?
If you want to join the industry as a 3D artist or wherever other roles I think you should aim to learn how to work with people. I think now a day where information is available for everybody and knowing the software doesn't make you in stand out. Your attitude will make a difference.
Q 7: What is the role of modern digital tools and technologies in the design process?
I think the modern digital tools will help people to achieve results in a very fast way as well as in a more efficient way. However sometimes focusing and mastering only on new tools it might drive you in a situation where you have only software-wise skills. I think there should be a balance of knowledge between tools/software and method/technique and in the case of the artist also some artistic skills and knowledge. So, in a nutshell, Modern digital tools are double-edged swords. They are here to help us to be more efficient and faster, but they can drive your focus on them rather than the overall process.
Q 8: Which types of environments do you have the most fun creating?
I don't really have a favourite type 🙂 I really had fun with all the kind of environments, sci-fi, abandoned, organic, fantasy, etc. What it's important to me (when it's possible) it's too keep diversity between what I'm doing and what I'm going to do next, so that I don't get bored.
Q 9: What other interests do you have that help influence your work and keep you motivated?
Exploring the world with a camera is for sure one of the most important for me. Travelling isn't good just because it's refreshing and relaxing (well not always relaxing tho) but more because it's an incredible opportunity to gather information about this world. And believe it or not, sooner or later you will use that knowledge even in a professional environment like your job, and that will probably make the difference, doesn't matter if you are an environment artist or a character artist or whatever discipline. Going around and seeing things is precious for an artist or even better for a person.
No need to say that all of this discovery, learning, seeing thing keep me motivated. Long story short, photography is one of my biggest interest, if you want to see few shots, this is my Instagram No there isn't any catty photos or selfie 🙂
Q 10: Which artist inspired you the most?
It's hard to say which artist inspired me most; there are so many around. Usually, when I have time, and I want to see some art, I'm going to Google Arts and Culture where you can find many many good artists. My favourite ones are: Canaletto, Claude Monet and J. M. W. Turner (Joseph Mallord William Turner) What I like about them is the way the use values and colours
Q 11: What are you doing next?
Who knows? 🙂 I'm always up for new challenges, so we will see. I wouldn't mind working in LA, but we all know how hard it is, especially now a day. Also, I wouldn't mind work remotely for companies while being in fabulous places. So if someone needs remote help, you know where you can find me 🙂
Q 12: What should students learn and not learn?
Students especially should learn to be more confident and not to underestimate themself. People, in general, should learn to be clearer and more direct when they want to say something as well as get feedback and critique in a constructive and positive way. In a nutshell be less touchy and don't take everything personally.
Q 13: What is the message that you can give to the young aspirants?
First one is to avoid the comfort zone otherwise you will miss chances to make a mistake, so to learn something new!
Second one, don't be afraid of saying something wrong or making mistakes, etc. And I know, everybody says that. So the question is why you are not listening? Hahaha I want to show you a meme that made me smile:
Last but not least don't waste time complaining about problems when you can use that time to solve it.
And hey! Have fun! If you are not having fun it's probably not worth for you 🙂 I mean staying more than 8 hours in front of a computer every day for not have a good time… seems like a torture 🙂
We thanks Leonardo Lezzi for giving us time for this interview.
Artstation: https://www.artstation.com/artist/leonano
Linkedin: https://www.linkedin.com/in/leonano/
Facebook: https://www.facebook.com/leonanotop
Website: http://www.leonano.com/
Here are some tutorials from Leonardo that we publish on zbrushtuts.com
1. No more wrong Normal Maps! Tutorial by Leonardo Iezzi
Link: http://zbrushtuts.com/2016/10/21/no-more-wrong-normal-maps/
2. All You Need to Know about Texel Density by Leonardo Iezzi
Link: http://zbrushtuts.com/2016/11/18/know-about-texel-density/
3. A workflow to bake details from zbrush to lowpoly by Leonardo Iezzi
Link: http://zbrushtuts.com/2017/01/12/bake-details-zbrush-lowpoly/
4. Super Bool Tool + Boolean workflow Recup by Leonardo Iezzi
Link: http://zbrushtuts.com/2017/01/30/super-bool-tool-boolean-workflow/
Digital art, 3d art, 3d artist, 3d character art, character art, zbrush, zbrushtuts, 3d modeling, 3d, 3d sculpting, zbrush sculpting, 3d tutorial, zbrush tutorial, tutorial zbrush, free zbrush tutorial