An Interview with 3D Artist Alvaro Claver
Alvaro Claver is a 3D Artist from Alvaro Claver. Recently he shared his latest 3D Art APEX. We took an interview with him about himself and about APEX. Hopefully this will be inspiring for our readers.
Q: Hello Alvaro Claver how are you, could you tell us a bit about yourself and your background in CG?
Hi! Doing good, thanks. My name is Alvaro Claver and I am a 3d artist​ originally from Spain. For the last year I have been doing the one year CG Program at Think Tank Training Centre​ in Vancouver, Canada, specializing in texturing and getting ready for a job in the VFX industry. I have a bachelor's degree in fine arts​ (specialized in photography) and up to now I have been working as designer, TV cameraman and photographer. Having worked on set for many years and loving as much as I do computer graphics, it was a matter of time changing my career path to become a VFX artist. I am so lucky I could attend Think Tank and being trained by the best in the industry. I want to thank my mentors Justin Holt and Paul H. Paulino because, apart of being exceptional artists and good friends of mine, they helped and inspired me so much!
Q: What software programs do you use for your CG and why?
I mostly use Maya for modeling, Mari for texturing, Vray for rendering and Nuke and Premiere for comp and editing. Whenever I need to sculpt I use Zbrush. The reason behind this choices is because right now those are pretty much the standard in the movie VFX industry along some others. I believe when learning new software it's always better to adapt to where the market is going. There is no reason for defending one software because of a personal preference, and it's good not to get too attached to any as the industry can change at any time.
Q: You recently did "APEX" could you tells us a bit more about this project?
Sure. The story starts with me contacting Dan Jones, the artist who did the original sculpture, and asking if I could recreate digitally one of his robots called "Apex" to include it in my demo reel. It turned out he was really excited about this collaboration so I flew to California to personally meet him and to take photos and videos of the original piece in order to use them as reference. What a great experience I had! Not only I got to involve myself personally into a collaboration project like this but also made a new lifetime friend.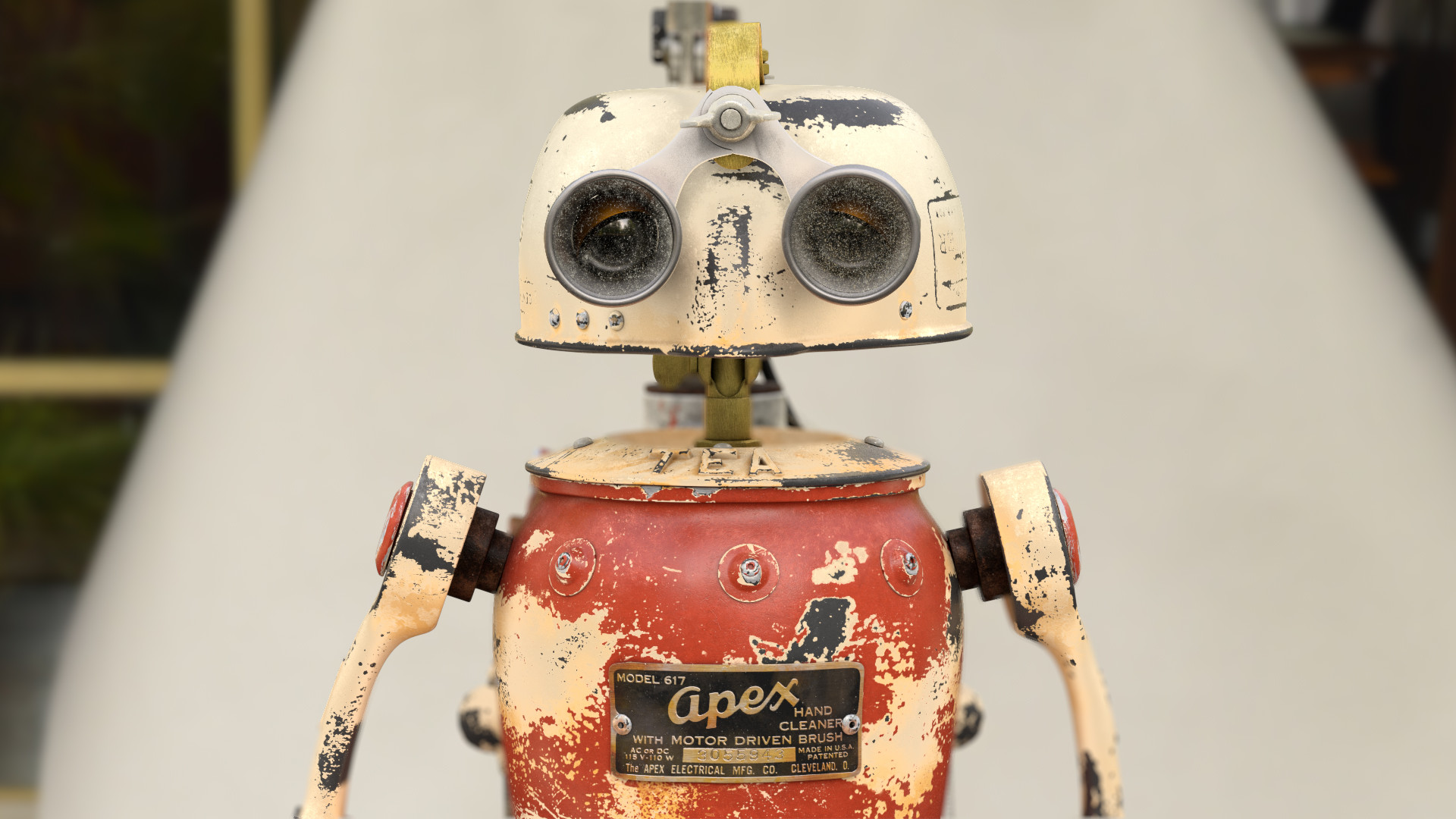 Q: Can you share a detailed process of creating "APEX"?
After planning all the steps, I began with a basic block out in Maya using reference pictures from the original. Then I modeled the robot and opened the UVs using a mix of Maya and UV Layout. There is a plugin for Maya called MmmmTools created by Joe Crawford, one of my teachers, that I used for keeping the density consistent among all the pieces when unwrapping the UVs. The texturing process in Mari involved using procedurals as much as possible, using masks that I created in Photoshop from the pictures I took from the original and projecting some detail on top of that.
After finishing texturing I illuminated the scene and look deved with Vray for Maya. I had to match the feeling of the real piece with more than 10 metal shaders with their own variations and dielectrics like wood and terracotta. Then I planned the camera shots and made one cut on Premiere with playblasts as previs. Once happy with it I rendered, comped in Nuke and edited the final version of the demo reel.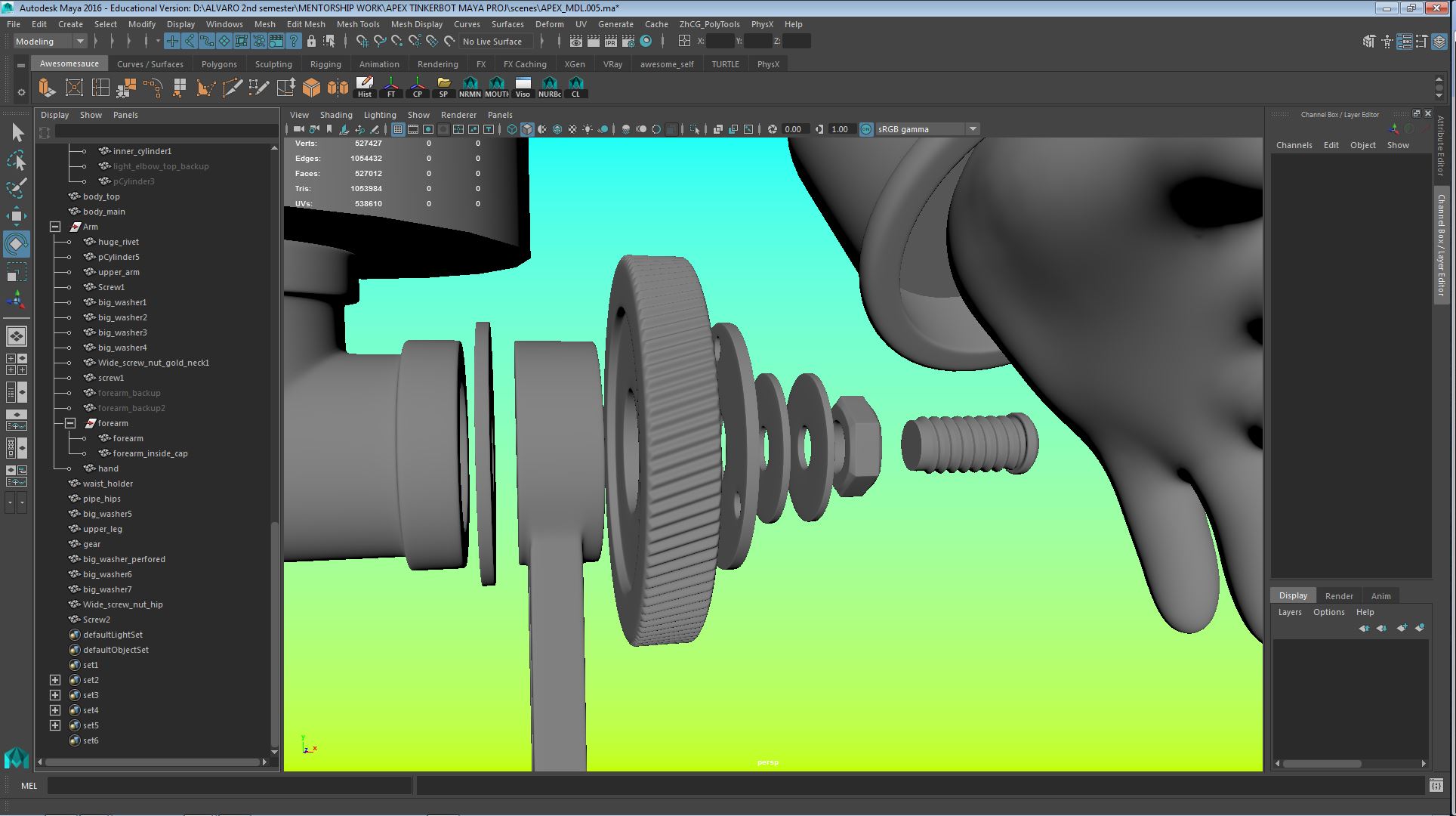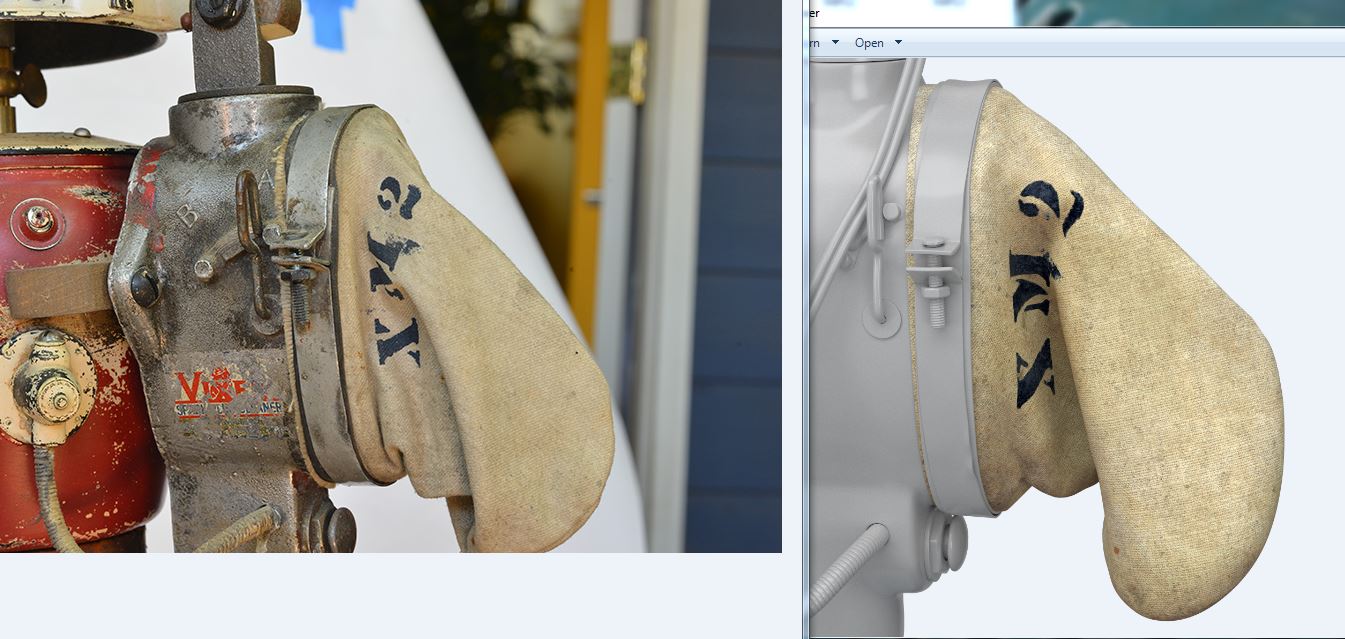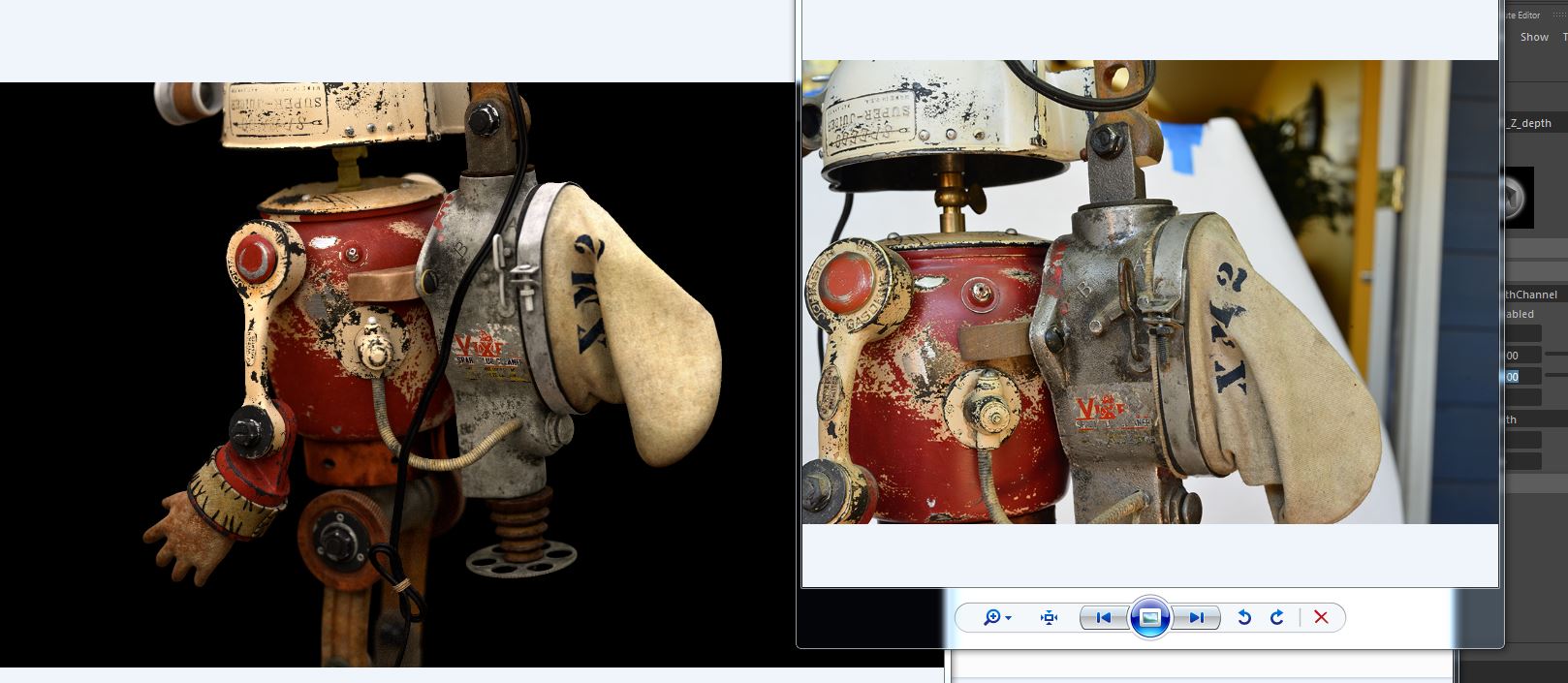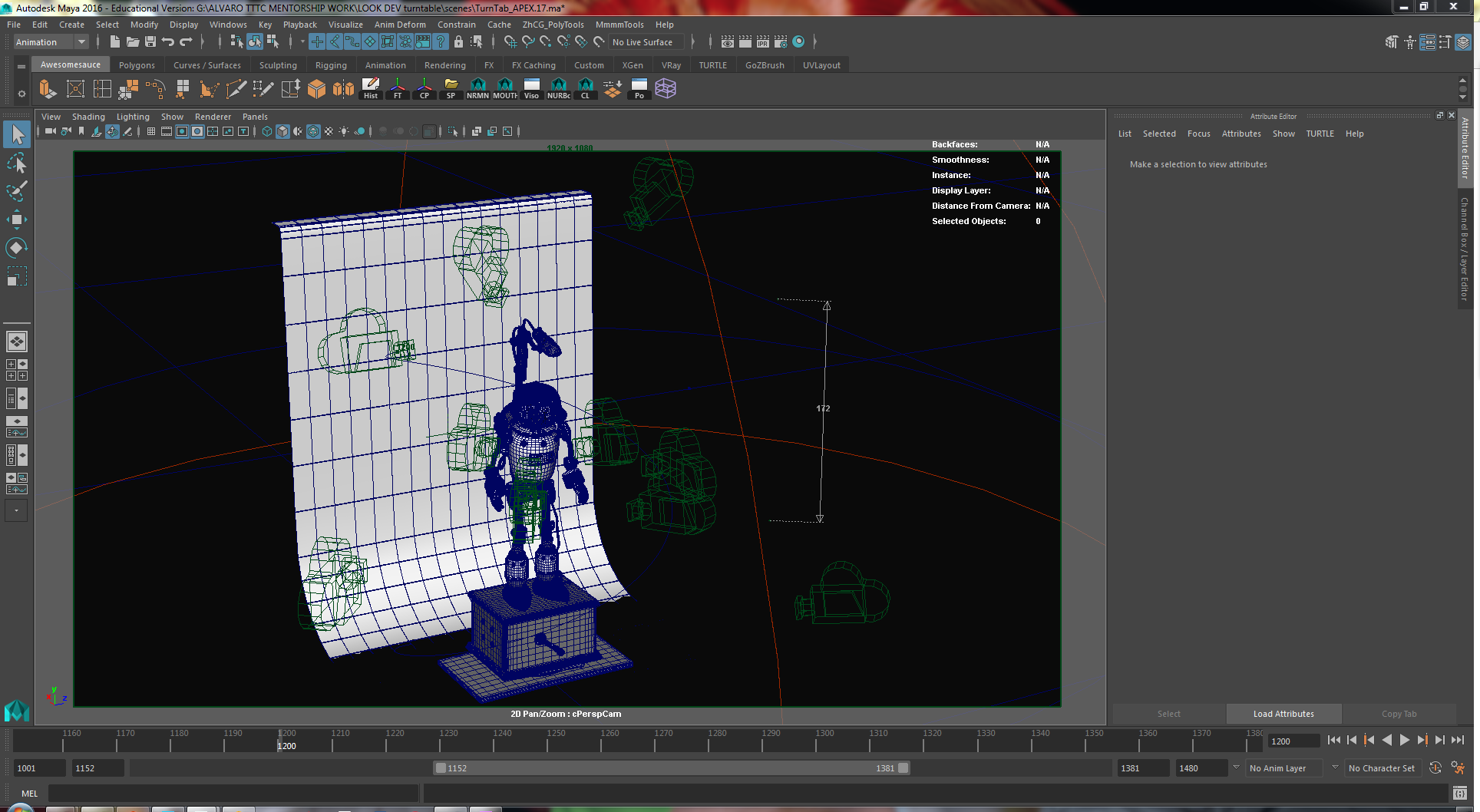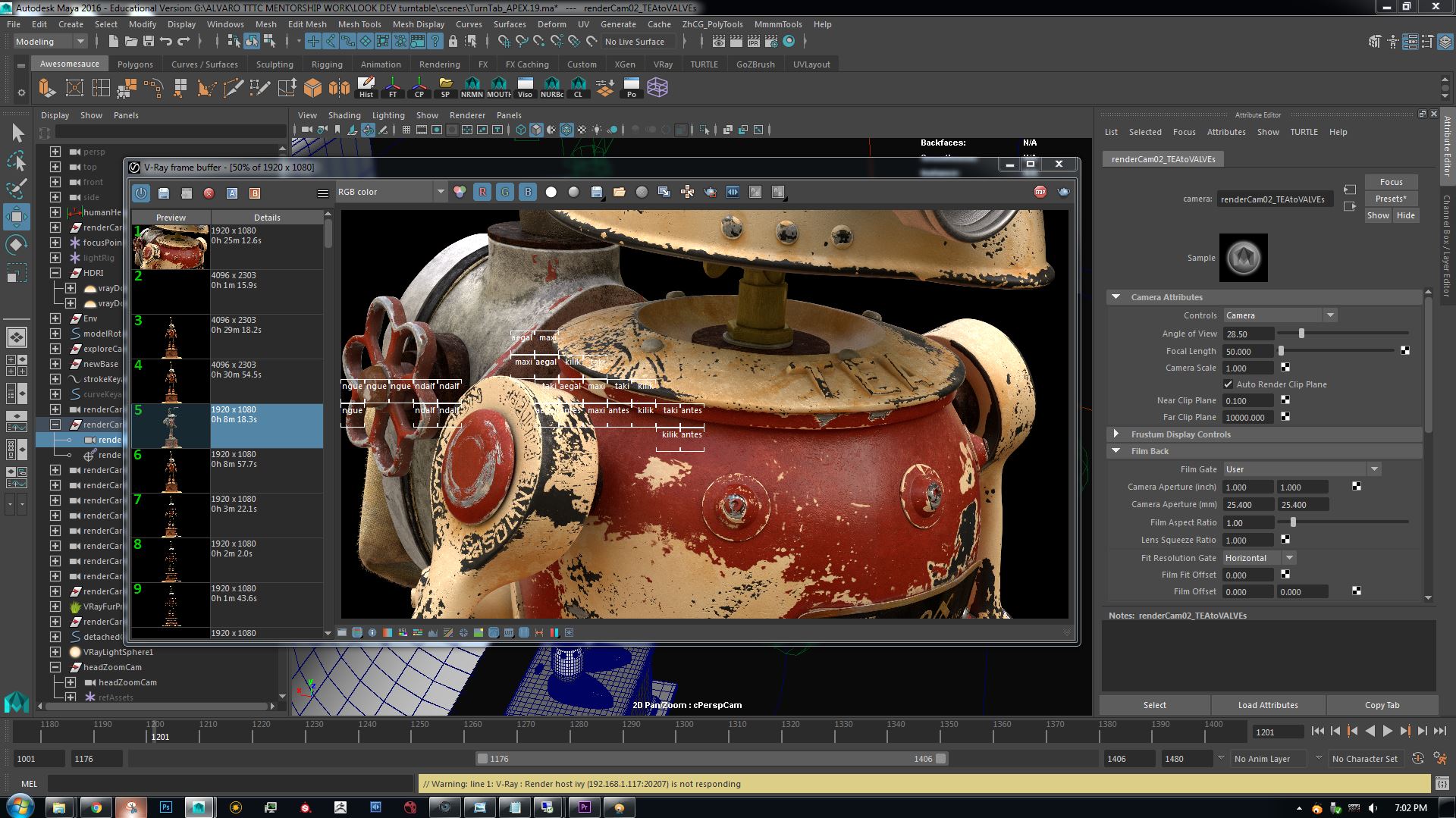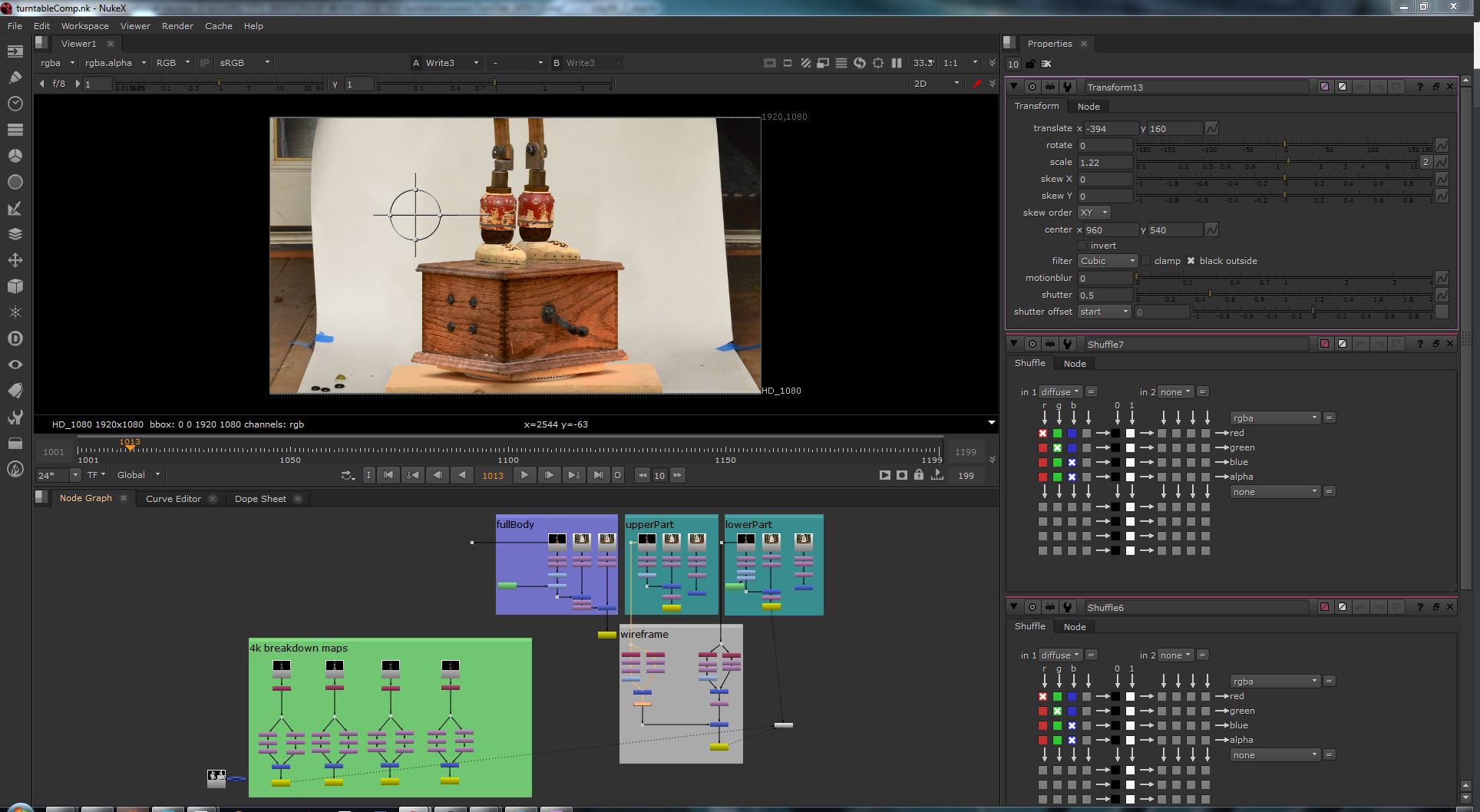 Q: What is the role of modern digital tools and technologies in the design process?
They are just that: tools. They are are there for being used for your needs! I always believed that it's not the tool, or in this case the software, what makes the artist. For instance: you can buy the most expensive DSLR camera but, if you do not put your heart and dedication on it, the outcome will not make any difference. It's the same with any software, workstation or medium.
Q: Which artist inspired you the most?
My two favourite classics had alway been Velazquez and Francis Bacon. I admire from Velazquez how he painted with light and did some studies of his art to understand it better. Bacon is something else, a tortured soul obsessed with anxiety and alienation. Very interesting indeed.
And then there are Will Eisner, Moebius, Alan Lee, James Paick, Scott Eaton… and the list goes on and on 😉
Q: What are you doing next?
Right now I started working on my next personal project. You have to keep moving or else you will start learning! I can't tell yet what is it going to be but I think it's going to be awesome! 😉
Q: What other interests do you have outside of creating art?
There is nothing more thrilling than motorcycles for me. I used to ride a Ducati Monster and my plans are saving some money to buy another bike. I do also enjoy traveling, doing yoga and listening to metal music with a good pair of headphones.
Q: What advice would you give to an artist just starting out?
Believe in yourself no matter what. Set a bar as high as you can and try as hard as you can to get there. If you have money available choose a good school, one that would care about you, and build a solid base of knowledge and skills. Schools are also good for networking: after all chances are you all in there are going to see each other again in the industry.
If you don't have any money it's not the end of the world. In fact many people even prefer learning by themselves. Arm yourself with patience, watch tons of tutorials and share your work for critique and comments in forums. Be careful though with the trolls 😉 It will take more time but the endgame is the same: become a better yourself and create something worth enjoying.
APEX – DEMO REEL
Alvaro Claver – Texture painter & look dev artist
+1 (619) 534 4711
alvaroclaver@gmail.com
Website: http://www.alvaroclaver.com/
LinkedIn: http://www.linkedin.com/in/alvaroclaver/
Facebook page: https://www.facebook.com/alvaro.claver.cg/
Artstation: http://www.artstation.com/artist/alvaroclaver
Twitter: https://twitter.com/alvaroclaver_cg
Instagram: https://www.instagram.com/alvaroclaver_cg/
Digital art, 3d art, 3d artist, 3d character art, character art, zbrush, cgvilla.com, 3d modeling, 3d, 3d sculpting, zbrush sculpting, 3d tutorial, zbrush tutorial, tutorial zbrush, free zbrush tutorial, interview, Alvaro Claver