Robert smith is a Character Artist in the AAA game industry and specialized in creating realistic characters. Recently we got a chance to took an interview with Robert Smith. We are publishing it today so that it can be inspiring for our readers and hopefully you gotta learn a lot from this sharing. Watch below the whole interview.
Question 1: Hello Robert Smith, how are you? Could you tell us a bit about yourself and your background in CG?
Hey, I'm great thanks! I'm a Character Artist in the AAA game industry and I specialize in creating realistic characters. Something I really enjoy is making game characters with likeness. 
Question 2: Could you talk about your career experience so far?
I graduated from a 3D art college in 2017 and since then I have been in the game industry for roughly 2.5 years. During this time I've had the pleasure of working with studios like Roarty Digital as a freelance character artist creating highly detailed realistic faces and also being an AAA game dev. I've spent most of my time working at Electronic Arts in Canada for the last two years roughly as a Character Artist on some of the biggest game franchises in the world such as FIFA and Need for Speed. As I'm from Australia I had to move overseas for that position and I'm very grateful to be given the opportunity to contribute to these huge projects. I can't wait to share where I will be going next.
Question 3: What software do you use for your CG Work and why?
Since I focus on creating video game characters with a sort of AAA studio workflow in mind I use fairly standard software which Zbrushtuts has a lot of tutorials on. One of the biggest ones would definitely be Zbrush, being easily one of the most important programs I use to sculpt everything from clothing to heads while even using Zbrush to create export important maps like displacements and cavity maps. I use Maya for general modelling, retopology as well as UV editing. Substance painter is incredible for texturing with a PBR workflow and has a really nice method for creating reusable texture materials. Marmoset Toolbag3 is used for a number of reasons, Marmoset TB3's texture baker is incredibly fast and gives very clean results as well as some great quality-of-life features such as being able to paint skew and offset for your bake which makes getting nice results so much easier. I also use marmoset to present my work as it's a fast way to get nice looking results.
Question 4: Can you explain the process behind creating your personal project  "Jonathan Ingram"?
So I had a few goals in mind before I started creating Jonathan Ingram which really helped me identify each main aspect of that project which I would then use as part of the driving force behind it.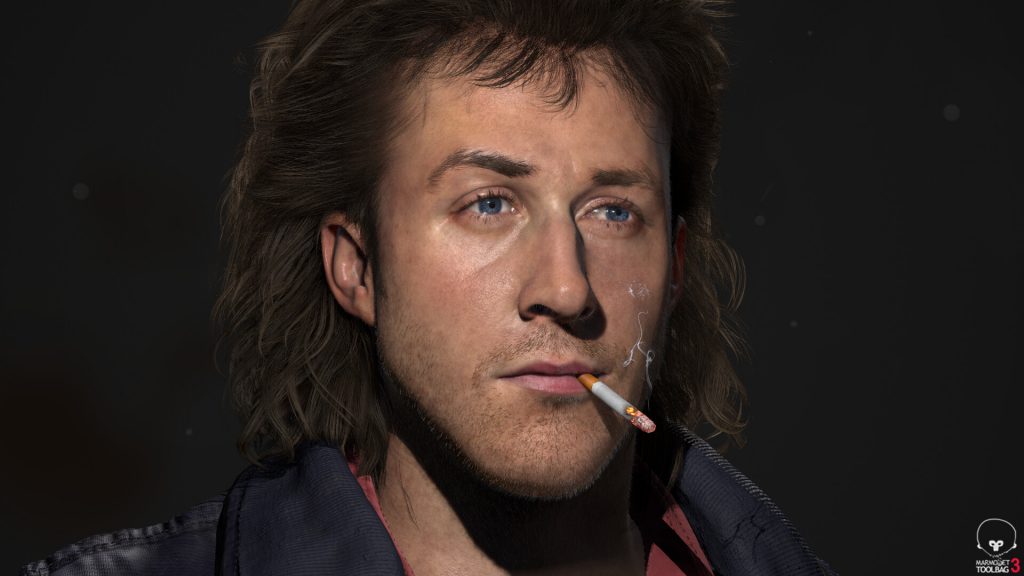 Firstly I wanted to create a character which really pushed the quality of my personal work, I hadn't made a personal project in a little while and I felt like my skills had improved a lot. This would mean a character who would tick some design boxes, like creating a human with a focus on clothing and facial quality (likeness in this case). This resulted in a lot of Marvelous Designer for clothing creation which was one of the main programs I wanted to take advantage of and learn more of.
At the time I was very inspired by games like the Resident Evil 2 remake which had taken old games and made next-gen versions and I thought it'd be really cool to do something similar for an old game I was passionate about. It was incredibly important to pick a game and character I really cared about because I was basically counting on the fact I might (and very likely) be making this character for a number of months and didn't want to burn out or get bored while making it. 
Creating likeness  is one of my favourite aspects of being a character artist but also integrating it with creating a full game-ready character was another goal I had. My mentality when creating Jonathan Ingram's likeness was 'if this character was cast as a famous actor to be mocap'd for a next-gen video game, who might it be?' I thought Ryan Gosling would be a good fit since he's played similar characters before and certainly looked the way I visualised the character in modern day.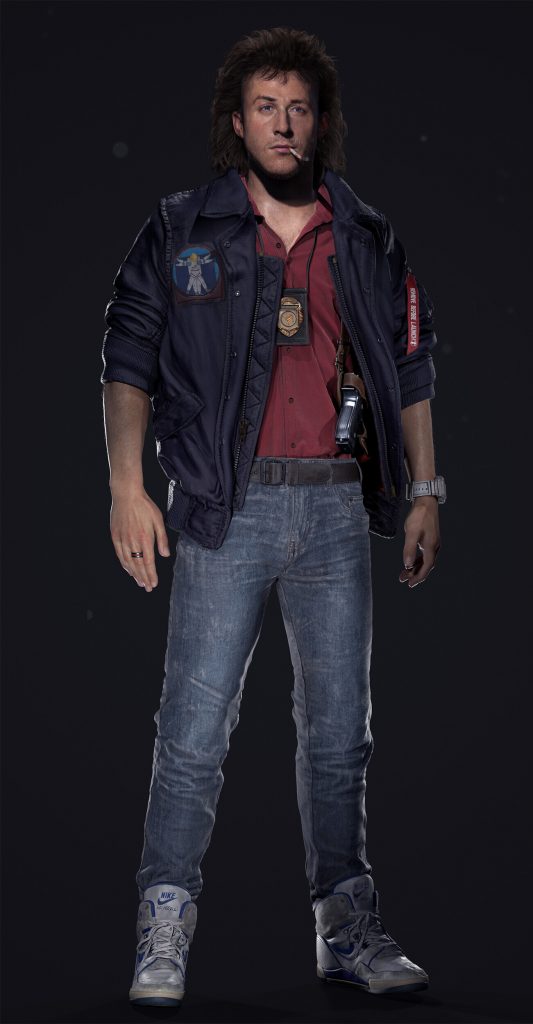 Anyone who has seen the character Jonathan Ingram from Policenauts will notice that his attire is different from what I had created. I originally planned on doing a one-to-one replica of the game's clothing but after doing some early experimenting in Marvelous Designer I wasn't convinced by the result, what I created didn't feel quite realistic enough to me. I decided to shift my focus slightly to use the original game's art as a guide and to use real-life reference for the final look. For example the Jacket which is based on an Alpha Industries NASA jacket I own ended up becoming a blend of the original game's jacket and my own one, this was to capture more of the original jacket design while also making it more realistic as it's always easier to replicate from real life and I had the real reference in-hand. Similarly I created his shoes using Nike Air Assault High-Top shoes as a one-to-one reference. I loved the look of these shoes and It felt so fitting to the genre and original game's aesthetic.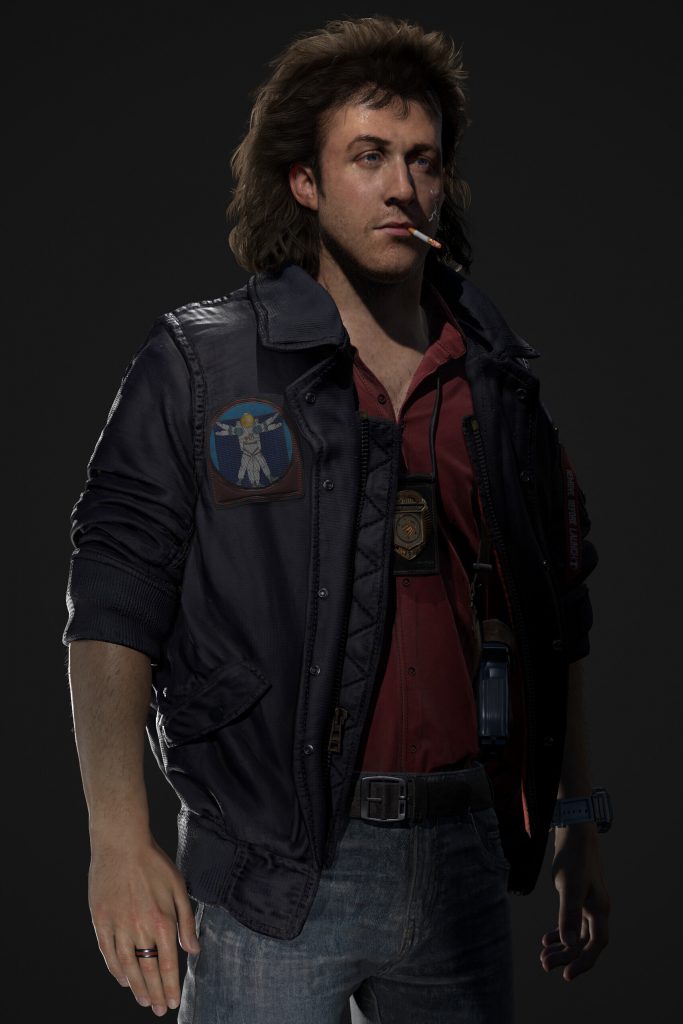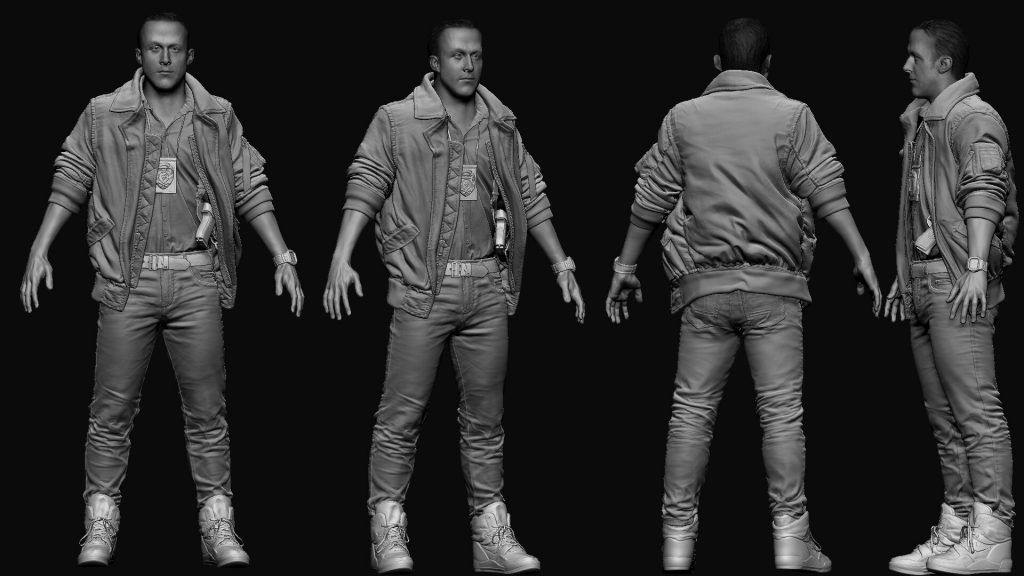 Presentation played a huge part on this project as I prepared a ton of different lighting setups as well as alternate poses for the character. For lighting I took a lot of inspiration from the original game's neon lighting as well as Blade Runner 2049 which had some incredible lighting setups which I tried to replicate. I've always thought characters with multiple poses feel more alive, even if it's a subtle change from relaxed neutral pose to a very basic heroic pose. To complement this I decided very early on that I wanted to have final renders of the character with and without his Jacket, which almost gives the feeling of a customizable outfit which is something you often expect from single-player RPG games these days. 
Question 5: What role do modern digital tools and technology play during your design process?
Modern digital tools such as the programs I listed above play a huge part of my design process. Creating realistic clothing has never been easier with the use of Marvelous Designer for example, as well as creating realistic faces with an extreme level of pore detail thanks to texturingXYZ. After learning these workflows and tools and how they can be used throughout a project I've always got them in-mind when considering how to approach the creation of an asset.
Question 7: Which artist has inspired you the most?
My good mate Liam Grice has always been an inspiration and was one of the artists which got me interested in creating likeness. You can check out his awesome work here: https://www.artstation.com/liamgrice
Question 8: What are you doing next?
I've just begun another likeness project which I expect will turn into a big full-body game character project, similar to my Jonathan Ingram. I look forward to sharing it online when it's progressed more.
Question 9: What other interests do you have outside of creating art?
Like most people in our industry, I'm a big gamer so if I'm not doing personal art I'm probably playing a game. I love anime, D&D and I also read whenever I get the chance, books like Neuromancer which give me existential thoughts.
Question 10: What advice would you give to an artist just starting out?
Decide if you want to work on films or video games, decide if you want to be a character artist, environment artist or something else. The sooner you figure out what craft you want to specialize in, the sooner you'll be able to cater your education to learn the necessary industry-standard programs and skill sets. Join online art groups and have an online presence, share your work-in-progress art and seek out artists from your chosen discipline, get to know them and try to make friends within the industry. The game dev industry is so small it really pays off to be social and to have people recognise your name and work but also know that you're a friendly person. Maybe the most important advice would be to echo so many other interviews in the past – keep practicing every day, even if you can only manage an hour, just like any skill it takes a lot of perseverance to improve at. Check out the tutorials on ZbrushTuts, they have a great selection of tutorials which cover a lot of zbrush, the tutorials are also from great artists which share their tips and tricks which can be icing on the cake. .

Thank you ZbrushTuts for taking the time to interview me! It's been awesome sharing my experiences and thought process with the 3D community.
Artstation: https://www.artstation.com/robertsmith
Facebook: https://www.facebook.com/robdanielsmith
Instagram: https://www.instagram.com/robsmithart
LinkedIn: https://www.linkedin.com/in/robert-smith-6b0952100
Digital art, 3d art, 3d artist, 3d character art, character art, zbrush, zbrushtuts, 3d modeling, 3d, 3d sculpting, zbrush sculpting, 3d tutorial, zbrush tutorial, tutorial zbrush, free zbrush tutorial, Interview, Robert Smith